Useful sites for Speaking
Представленные ниже сайты помогут вам свободно общаться на английском языке.
Learn how to improve your listening comprehension and speak fluent English like a native English speaker.
Thousands of conversation questions, hundreds of Word and PDF handouts. Controversial and everyday discussion topics. For speaking practice in and out of class.
* There are currently 651 discussion topics to choose from.
* Use for ESL lessons, speaking practice, debate clubs, lesson add-ons, and more.
* Students can form discussion groups for independent speaking practice.
* The speaking activities are on everyday themes and more controversial issues.
* Each conversation lesson has ready-to-print Word and PDF downloads.


This website offers you the best source to improve your spoken English. There are several lessons provided in this site to learn English speaking so that you can speak English fluently.
One important thing about this site is that it doesn't require registration to learn speaking English. TalkEnglish also provides its own Android and iPhone/iPad app. The site also offers it's downloadable version to download on your PCs.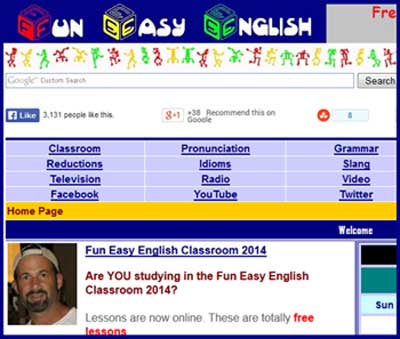 It is really just like as its name i.e, Fun Easy English. So, learning English with this site is very easy and full of fun. It offers the amazing source to learn English grammar as well as spoken.
This website's owner works on it very positively and make new words and other interesting contents available for you. Moreover, this site provides you a Calendar known as Classroom Calendar and different categories. So, you can simply select your date by calendar to learn or by choosing the specific category.